What's life like in a world that is warming up and where more and more people are clamouring for what is only available to a few? Social anthropologist Zdenka Sokolíčková looked for the answer in an unlikely place: the northernmost human settlement in the world – Longyearbyen, a town of 2,500 people that lies under the northern lights on the Svalbard archipelago in the Arctic. She lived with the locals for two years, interviewed 220 people and found more than she had bargained for; as she admits, some life stories are hard to let go of.
Read the story in Czech translation here.
In February 2019, Zdenka Sokolíčková packed her suitcase (or rather her barrel) and left for the Svalbard polar night with her three young sons and her husband, the biologist Jakub Žárský. They were headed to a frozen country dotted with colourful houses where no one leaves town without a gun for protection against polar bears and where she was about to launch a study into the dramatic impact that climate change can have on everyday life. To help her accomplish her mission, she had a Marie Sklodowska-Curie Fellowship grant of 5.5 million Czech crowns (which she won in the second round through the national grant scheme) and a recommendation by the distinguished Norwegian anthropologist Thomas Hylland Eriksen under her belt.
Her goal was ambitious: to collect interviews with 350 locals and document their lives in a world that's melting under their feet and brings unexpected weather patterns and societal shifts. She asked them about the changes in recent years to show how major processes – such as climate change and globalisation – play out in small communities, such as a tiny Arctic town.
"Longyearbyen is one of the places on the planet where climate change is most visible: significant warming, loss of sea ice, more intense precipitation, permafrost melting. And all of this comes coupled with rapid economic changes," says Sokolíčková. 
What was originally a mining town founded in the early 20th century and producing top quality black coal has lately been turning into an exotic tourist destination, not least due to the global effort to phase out the use of fossil fuels.
The job opportunities created by the tourist industry are not attractive to the Norwegians but to those workers who appreciate the absence of visa or work permit requirements. And so you can find a Thai and a Filipino community living in freezing Svalbard, most of whom speak no Norwegian. For many, it is only a stopover: although the average length of stay in Longyearbyen is four years, about half the inhabitants now only last for two years before moving on.
As if this was not enough for a small community, it has become a globally sought-after destination for researchers. "This has brought about a dynamic change in the population. What used to be a primarily Norwegian town became a cosmopolitan village overnight. While the locality is geographically remote, it is now a place where a lot is going on – and it's happening fast," says Zdenka Sokolíčková. 
For an ethnographer like her, the local community is attractive because it is relatively clear-cut: it is easy to get a grip on the different population groups and get your research off the ground. While an anthropologist only needs a few tools – a voice recorder, a pen and a sheet of paper – the soft skills are no less important: the ability to listen, an open mind and erudition. Extensive reading of local newspapers and social networks also helped Zdenka Sokolíčková get to know her research ground.
When in Rome, speak as the Romans do 
Soon after her arrival, she realised that she would learn the most if she blended in and doubled down on her Norwegian: "I remember my first interview very vividly. She was Norwegian and we talked in English. I had goosebumps as I listened to her account of the avalanche that hit the town in 2015, destroying homes and killing two people. For the locals, this was a crack in space and time when they suddenly realised that they were no longer safe in their own homes," says Sokolíčková, adding that while the climate crisis cannot be unequivocally blamed for the avalanche, the locals perceive the changes around them in this context.
"I saw the tears well up in this woman's eyes; it was obviously a very profound memory for her. However, it was hard for her to find the right words in English. I could see that there was a story that I was unable to document – and it was my fault because I didn't speak the language," she says. She took that experience to heart and within about a year was able to interview her subjects in Norwegian. 
"Over time, I realised that rather than interviewing as many people as possible, it is more fruitful to establish a closer relationship with key respondents and see them several times, or in informal settings. We became friends who would just hang out together. In this way, you can collect much richer and deeper data than when meeting someone in a café armed with a voice recorder."
Since the Arctic is warming up faster than the rest of the planet and the permafrost is melting, the locals have their hands full as they try to keep their homes together and prevent them from cracking, moving or downright collapsing. 
"The Norwegians who live in places where they are at the mercy of the elements have a strong connection to the natural world around them. A cold and dry winter is important, where you can see the stars and the northern lights above you 24/7. So a downpour in the middle of the polar night is very hard on them."
Afraid of their beloved nature
Some locals are affected by what is known as "environmental grief": "They are sad because something they love is disappearing right before their eyes, while they can only stand and watch. They don't know whether they'll be able to continue living in Svalbard. They watch a process that happens outside of their power, but they can feel it here and now: they cannot drive a snowmobile to their cottage anymore because a fjord that has 'frozen' in its name was last frozen about ten years ago.
Fear of nature, she found, is one of the most dramatic consequences that climate change has on everyday life in Svalbard. What was previously a strong partner to lean on is now "An unpredictable entity that starts pouring down rain in January – then the tundra freezes over, and the reindeer die of hunger because there is nothing left to eat. Last July, it was 22°C. The locals commented that it was nice to stroll around in a dress, but it felt really improper: should I be happy that the weather is nice today or concerned that the destruction of the planet is near when it's 22°C in Svalbard?"
However, a society is always a complex place, and you will find climate change deniers even in a town that is undergoing dramatic changes. To understand them, you have to look back: "The town's identity and collective memory is all about mining – after all, that was why the town was founded and why it's still maintained," says the anthropologist. This is about to change as well: it has now been decided that the mine will close in a few years. Norway sees its future in tourism and developing green technologies to sell elsewhere.
Solidarity as a means of survival
Zdenka Sokolíčková notes that the long-time residents of Longyearbyen regard these changes as a betrayal. "They live in a place where stepping out of the town's perimeter without a gun or weatherproof clothing is a life-threatening situation. In a place like that, community solidarity is incredibly important. Many of the long-timers told me that the social climate in the town took a sharp turn for the worse." 
With the increased flow of people due to tourism and research, the freezing outpost has, rather absurdly, acquired the anonymous feel of a city.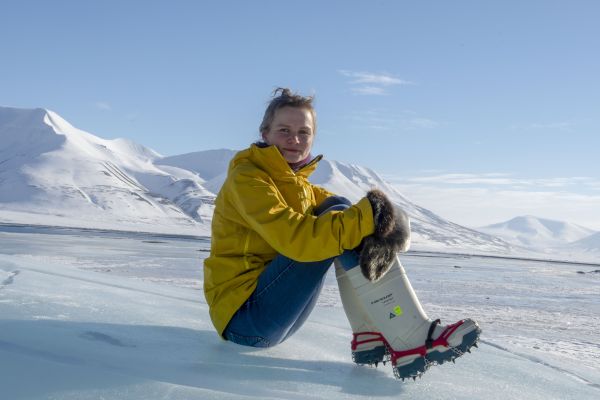 "On top of that, mining, once a well-respected profession appreciated as a means of supporting Norwegian sovereignty over Svalbard, has become something to be ashamed of and branded as the root cause of the climate change whose tragic consequences we are facing," she explains. 
The feeling of being mistreated often shone through in the long-timers' attitudes to the manifestations of climate change – including the denial of their existence. "They are mostly well-educated people who, nonetheless, believe that there are natural climate cycles and that the current warming is simply a phase that has nothing to do with human activity. I was surprised how many people believed this," says the anthropologist and concedes that she might have been slightly naive about the locals' awareness of climate change before her arrival.
She thinks the approach of the Norwegian government to mining is one of the reasons behind the local climate scepticism: "Since the 1990s, tourism has been preferred to mining as an eco-friendlier activity. The locals think that's a lie." The tourist industry brings an influx of people who fly in for a few days or arrive on a large cruise ship. "The ship spits out thousands of tourists who take pictures of everything, trample the tundra, go on a cruise around an iceberg and then leave. It is just another chain of human impact on the environment."
The issues surrounding tourism were at the forefront in her interviews with the locals – until the COVID-19 pandemic brought about a complete change. "Overnight, they transferred all the tourists to the mainland. The hospital on the island can treat two patients at a time: we wouldn't stand a chance if there was an outbreak. Everyone panicked and suddenly the island was shut off from the mainland. The industry has still not recovered; some of the businesses will definitely not make it through this. And Norway has realised that opening the door to the tourist industry, which relies on global workforce mobility, has not brought the desired results. They realised that they want to keep their tiny town Norwegian," explains Sokolíčková, adding that Norway has begun to backtrack and reconsider its stance on tourism. 
The blunders of globalisation: children without a homeland
No matter how well an anthropologist is prepared before they set out, the reality on the ground is always an unknown. Zdenka Sokolíčková set out to Svalbard thinking it was a "living lab" to study the impact of climate change on local life. It turned out that the reality is much less straightforward than the appealing media stories about a small town plagued by the consequences of global warming.
"I soon realised that some of the long-timers are hypersensitive to the topic. They would shake my hand and say, 'I hope you are not about to ask about climate change'. This would make any anthropologist stop and think. I once interviewed a journalist who said: 'Climate change is the only story this town has.' I had to disagree. My ethnographic research unearthed so many stories, it's just that no one really wants to talk about them: the marginalisation of workers from outside Norway, the working conditions of the guides and many more." 
During her first year on the island, she uncovered a previously unrecorded phenomenon: the situation of the children of Thai and Filipino immigrants. "These children grow up on the island, they learn Norwegian and have minimal contact with their country of origin: they might even forget their parents' language. They want to live in Norway, but for Norway, they are a nonentity," she says about a subject that is particularly close to her heart. 
While Norway is granted sovereignty over Svalbard by an international treaty, the local legislation is not that of Norway. Since the Norwegian immigration laws do not apply in Svalbard, it is seemingly very easy to settle down there. However, the flip side soon becomes apparent: there is no social system in Svalbard. This is a place for healthy and productive people who can take care of themselves. 
"Once these children of immigrants grow up, they have no health or social insurance. They still have the same status as if they just arrived from the country of origin of their parents or grandparents. The children have hybrid identities – as they say, when they go to Thailand for the summer, they are not Thai enough; in Norway, they are not Norwegian enough," says Sokolíčková about the unenviable position of these children. 
There are about twenty of them in the town, but no number is too small for an anthropologist. If an issue exists, that alone makes it worth talking about. Moreover, the town is home to about a hundred other children of non-Norwegian descent.
While it was the human stories that attracted Zdenka Sokolíčková to the freezing tundra, there are many other creatures who share the space with them. Sokolíčková is a member of the Czech Society for Ornithology and enjoys birdwatching with her husband and sons. There are also whales and walruses – the stars of a field trip organised by her five-year-old's kindergarten. 
And polar bears. The researcher's family got uncomfortably close to those as well: bear tracks were spotted in the town at Christmastime 2019. "They say that at five a.m., the bear was strolling around the bus stop where my son, who was then in the first grade, would wait for his school bus every morning. Poor bear – they shot him later on." A tiny polar bear figure glitters on the ring and bracelet she is wearing. "It's a present from one of my long-time respondents. She is a jeweller from the Netherlands who has lived in Svalbard for the past twenty-five years. She makes two types of jewellery – with and without polar bears; and she always says that the former sells, while the latter doesn't," says Sokolíčková with a laugh. 
She took inspiration from the iconic animal of – you guessed it – climate change in her own research: she called the immigrant children "teenagers without land" after the film about polar bears called Queen without Land. The chilling story of climate emergency that documents these majestic animals as their habitat disappears from under their feet became a festival hit. Zdenka Sokolíčková offers an analogy: "A starving bear on an ice floe is a powerful theme; it brings tears to everybody's eyes. What I thought was, is anybody interested in the conditions that these children live in? Just like the bears, they have very little control over their environment." 
And so in addition to her primary research on the changes in Svalbard, Zdenka Sokolíčková obtained additional financing to explore this phenomenon: "Nobody is interested in these people: they are a blunder of globalisation. But I am interested in them, and I want to get their stories out." She interviewed twenty-five respondents, obtained the necessary permissions to talk to young people under sixteen and collected insights from their parents and teachers – to record these fragile stories before they disappear. Together with her colleague, a Polish photographer, she is planning to open an exhibition of the photos of some of her interviewees to show them to the locals. "The venue of the exhibition will be a shut-down coal power plant. A power plant without coal, children without a homeland," she says as we talk on the roof of a house close to Prague Castle.
Research book to be published by the London Pluto Press
This July, Zdenka Sokolíčková and her family returned from Svalbard as she is starting work on a book about the ever-changing life under the northern lights. It will be published by Pluto Press, which is the same London-based publisher that publishes the renowned anthropologist Thomas Hylland Eriksen.
The book centres around one key dilemma: our world is changing, and our actions helped bring the change about, but its consequences fall harder on some than others. "There are huge differences in how climate change impacts different groups of people. And Longyearbyen is a miniature version of the major challenges facing the world today: overconsumption, luxury and conveniences that we got used to and now need, solidarity, being open to the otherness of others… You cannot shut yourself off from the outside world, it will come knocking on your door. In Longyearbyen, it comes in the form of tourists," says Sokolíčková.
Although she recorded fewer interviews for her main research than originally planned, she was able to accomplish more than she expected. She took note of seemingly marginal and previously undocumented social phenomena, such as the immigrant children. Along with her colleagues, she is now working on a paper on the impact of the pandemic on the community (which, by the way, has not had a single infection). For a while, she also became immersed in a project several researchers were working on with an architectural firm, where she studied the relationship that the locals have with their town and how they feel about its urban development. The expert team will soon collect an award from the Applied Anthropology Network EASA for their work on the project.
And this is still not a complete list of all the topics that Zdenka Sokolíčková opened at Svalbard. It will take her a few more years to wrap up everything that she started. 
Supported by a star in her field
What was the path that led her to the Arctic? Well, it was all down to coincidence: at one point, the graduate of cultural studies began to feel she was treading water. For several years, she taught the introduction to social anthropology to students of transcultural communication in Hradec Králové, and she had two children. She realised that she had no room for personal development if she remained a lecturer. At the time, there were no opportunities in her field for her favourite specialisation – the relationship between people and nature. 
Her enthusiasm for this topic can be traced back to one of her teachers, the sociologist Jitka Ortenová: "She was absolutely key. If she taught something else, I might have specialised in a different area. I think that my path was very much influenced by people who felt trustworthy in their professional capacity," says Sokolíčková. 
Two important things happened at this time: she and her husband agreed they would like to live abroad for a while, and another key figure appeared in her life. She met the Norwegian social anthropologist Thomas Hylland Eriksen, a European star in her field. "The Norway Grants gave me the opportunity to spend two weeks shadowing him. I met him at his department in Oslo, he took me to a conference, we attended some classes... Considering that he is a living legend among anthropologists, he is a completely normal person. And I was shocked to discover that he actually listens to what you say. That's not a matter of course at all in someone who has published reams of books, authored dozens or hundreds of papers and conference presentations and presides over various professional associations." 
A colleague then forwarded an invitation to a seminar on the Marie Skłodowska-Curie Fellowship grants. These allow researchers to spend about two years in another country – just what she was looking for. The researcher's host institution and mentor, who acts as a guarantor for the research, play a crucial role in the application. It was obvious whom Sokolíčková would turn to.
"This was in winter 2016 when Eriksen was diagnosed with pancreatic cancer. It was an incredibly challenging time for him but thankfully he has plenty of life force. I felt very encouraged when he said he would support me as much as he could," recounts Sokolíčková. To this day, she feels grateful to Eriksen and often thinks of him when someone else, such as a student interested in Svalbard, asks for her help. 
"I received a huge helping hand when someone of his status, who could feel entitled to ignore an e-mail from an entirely unknown Czech academic, accepted me and allowed me to shadow him for two weeks," she says. "I'm trying to live up to that." 
And what does Eriksen have to say about Sokolíčková? "...Our collaboration goes back a number of years. She impressed me from the first moment; she is clearly very smart, but also has a passion for what she does, which shows. She believes in knowledge as a means to make us wiser and better human beings, and is not afraid to explore new areas of inquiry," he says in the opening of his lightning-fast response to an e-mail asking for a few words about the researcher, and continues: 
"During her fieldwork in Longyearbyen, she came across as even more impressive. She learned Norwegian fluently very fast and engaged with the local community in a way that I have rarely seen in an anthropologist. Her long stay in one of the most barren and remote places on Earth went well beyond ethnographic fieldwork. She organised cultural events, helped people in trouble, and must have been a key person in the small town by the time she left. I would be surprised if Zdenka did not continue to travel to Svalbard for many years, having bonded so deeply with the place. And of course, her anthropological work is also first-class. She is by now beyond promising and could become an important figure in European social science in the coming years."
Sokolíčková's Svalbard research follows in Eriksen's footsteps. His ERC Advanced Grant, which is awarded by the European Research Council to the most promising researchers, focused on the impact of global processes, such as climate change and globalisation, on local communities. Project Overheating, as it was called, was completed in 2017 and was well-received in the research community. 
When coupled with the enthusiasm of Zdenka Sokolíčková's husband, whose biologist's heart leapt at the idea of Svalbard, the destination of the family – now of five – was decided. 
Stories that stick
"Smiles, looks and memories fill the fragrant herbariums that are souls..." goes the song by the Czech singer-songwriter Karel Plíhal. If that is true, then Zdenka Sokolíčková's herbarium is full to the brim. The 220 people she interviewed in Svalbard over the two years represent ten per cent of the local population. 
"I stopped at this number because I felt that it would be useless to keep running after more interviews like a hamster in her wheel. I was finding the same motives over and over," she explains.
While some of them only passed through, others got deeper under her skin and hold a place of pride in her herbarium.
One of the latter is Mark Sabbatini, who arrived on the island in 2009 and started the news server IcePeople.net. "For twelve years, he produced Svalbard news in English – for free, simply because he was passionate about it. He was crucial in a town with a growing population of non-Norwegian speakers," says Sokolíčková. She remembers the journalist as a one-of-a-kind and unforgettable person.
His own story ended up being that of a climate change victim – although, once again, it is more complex than that. "He bought a flat in a brick building, one of the few on the island. Unfortunately, its walls cracked due to the melting permafrost, making it structurally unsound. They say the whole thing happened because someone turned off the freezer in the building's basement that was supposed to keep the permafrost frozen," she says as she recounts the surprising turn of events.
As soon as the authorities learned about the cracks, they moved Sabbatini out. "In a few seconds, he went from being relatively financially stable to a man on the brink of survival and homelessness," describes Sokolíčková. Although the building is still standing, the journalist cannot move back and will not be compensated for his loss, either. 
As the last straw, the new governor issued a decision to expel him. Only people who can take care of themselves are allowed to live on the island, according to the local rules. "So right now, Mark is sitting in Oslo and waiting for the US embassy to lend him money so that he can buy a ticket to Alaska, where he has to return. Then he'll have to start over from the beginning," concludes Sokolíčková on the rough story of her friend and occasional proofreader of her work.
A Norwegian journalist and writer Line Nagell Ylvisåker is another friend Sokolíčková left at Svalbard. The mother of two is the author of Verda mi smeltar (My World is Melting), a book published in 2020 that is a personal account of someone who decided to bring up her family – and build a house, which is now quite rare at Svalbard – in a place that is now changing before her eyes.
"Then came the avalanche of 2015; the weird, nonsensical weather of 2016; and another avalanche a year later. This prompted her to start looking into climate change. She conducted a series of interviews with researchers and others, such as an old trapper who lived in a hunting lodge at Svalbard for forty years. She wrote a slim and compelling book that for me personifies one approach you can take to come to terms with life in a dramatically changing place. There's no hysteria; it is the genuine internal uneasiness of someone who likes the world they live in and cares about people," says Zdenka Sokolíčková about her friend's thoughts. One of the things they both agree on is that there is no barrier between the human and natural world. "We were both interested in the same topics, although we each attacked them differently."
At the mercy of snow and ice
Even a professional anthropologist can sometimes get weighed down by the stories they absorb. "Or you might feel like someone has suffered an injustice, but you can't help them. It's just the principle of it. Or someone wants to talk to you to let people know about their problem, and they believe that your work can do something for their cause," says Sokolíčková about the ethically challenging situations she encounters.
"I cannot promise them that, but as a researcher, I am morally obliged not to be indifferent. My work is not done and over with once I publish the paper and collect the points. I do what I do so that the stories get told – and are listened to," she explains. She thinks that highlighting mistakes or injustices that could be made right are an integral part of her work and she presents her research findings to the local community, either through exhibitions or through the local media.
"There were two periods when I felt I was sinking under the load. It helped that we were making a film about our family (editor's note – release is planned for next year). Since the filmmakers couldn't come to us due to the pandemic, the director Veronika Lišková asked me to send her my monologues, which will be used as the background in the film. I sent her eighty-five recordings and that helped me talk it out," says the researcher. 
Her husband also helped her hold a mirror up to her ruminations. "Anthropological fieldwork, when you live in the place with your family, is not something you can leave at the door when you come home. You can't just do your nine to five and then come home with a clear head," says Zdenka Sokolíčková with a shrug. 
On the other hand, coming to live in the freezing town with her whole family opened up doors to her research. "I wasn't an outsider who came in to research the place. That idea makes no sense at all. I was there with my whole family as someone who is at the mercy of the local environment and must overcome many of the obstacles that I later heard about from the locals: the language barrier, high cost of living, integration of children into the new environment, climate and language... It was quite a challenge for my family in the early stages and it made my interest in the place more trustworthy. People took me more seriously when they saw I was battling against the same issues as them," explains the anthropologist.
Her sons grew fond of the place and were reluctant to go back to Czechia. "My oldest, who is now eight, had his boy gang over there and his beloved Norwegian comics. We were happy with the kindergarten too: the children spent most of the time outdoors, playing with natural materials in the mud, ice and snow, even if it was minus 20°C. When it was minus five, it was warm enough for them to have lunch outside. But they never got sick!" 
She already knows she will be returning to Svalbard: from this May, she has secured a postdoc position at the Arctic Centre at the University of Groningen, where she once spent a semester as a student. She will be part of a monitoring project that aims to integrate the information on the changing environment at Svalbard brought by long-term scientific observation with what we know from other resources: stories, experiences and memories. The keyword? Environmental memory. She is also looking forward to a research expedition that will study how scientific findings are made in the Arctic – what is known as the ethnography of science. 
Despite the many Arctic topics that will occupy her time in the years to come, Sokolíčková sees her future mostly in Czechia, not least because of her family. They are planning to settle in the highland region of Vysočina. She no longer wants to live in the capital: the simplicity and short distances that the family got used to in Longyearbyen would be sorely missed in a big city.
And what about her research aspirations? "I would like to become part of a network of Czech anthropologists who study environmental topics. Right now, there is no environmental anthropology section at the Czech Association for Social Anthropology, but I think there is potential. It would be easier for the family if I was employed on a project where the fieldwork takes place in the Czech Republic." She points out that there is nothing wrong with an anthropologist working at home, even though the word might conjure up images of explorers cutting their way through the jungle to find remote indigenous tribes. "Your job shouldn't be interesting only if it takes place in a remote exotic destination," she adds. 
Nevertheless, she does mention that Japan is an attractive destination for her. She spent a semester there as a student, just as she did in the Netherlands. "This one might remain just a dream, though, but that's fine – even dreams that never come true are good to have. Right now, I'll be happy if I can remain on the wave started by this project – and we'll see whether the postdoc position will bring further cooperation with the Dutch university or with one of my colleagues," says Zdenka Sokolíčková as she looks ahead. 
The author is an editor of Deník N.
Translated by Jana Doleželová.
This project has received funding from European Union's Horizon 2020 research and innovation programme under grant agreement No 101036051.